The ex-girlfriend made the late actor Park Yong Ha tormented until his death.
The late actor "Winter Sonata" once blamed himself for not being able to protect his lover when he was opposed by fans and scrutinized by the media.
On June 30, 2010, Park Yong Ha shocked the Korean entertainment industry when he hanged himself at the age of 33. Relatives said the actor did not leave a will or a last word, so no one knows the reason. for actually making him choose to leave.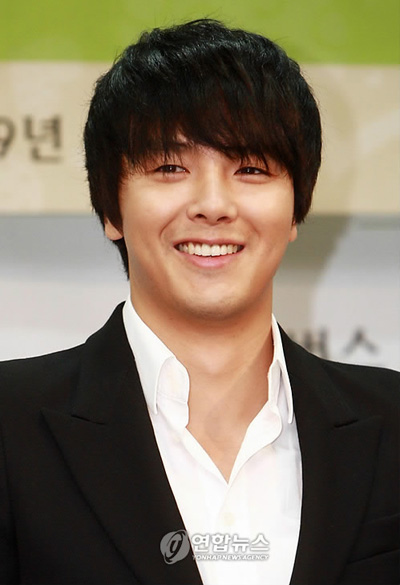 Eight years after Yong Ha's death, friends and relatives are still in pain thinking about him. On Daum, Yong Ha's fans spread the message, "Love your idols as much as you can, whether they're dating or deciding to leave the group. Either way, support them. Because at least they're alive. And my idol is no longer in the world." This message reminds the audience of the sad memory of the late actor's desperate love with singer and actor Eugene.
Mrs. Oh Young Ran – the late star mother – published an autobiography about her son with the name My Son, a real Park Yong Ha. The book is 260 pages long, telling about his life from birth to death. In it, he mentioned his torment when his love for Eugene broke off in the middle of the road. Sankei Sports (Japan) said that a sad love story could be one of the reasons for Yong Ha's depression, seeing that life no longer has any meaning.
Yong Ha (1977) and Eugene (real name Kim Yoo Jin, 1981) – The most beautiful idol in Kpop history – met on the set of Love You in 2002. In the film, he played director Lee Hyuk, who was Jin Da Rae (Eugene) saved him from a shipwreck when he went to Jeju Island to film. They gradually developed feelings and went through many obstacles to be together.

A close friend told him that he had a crush on Eugene since 1997 – when she first debuted as the face of the first idol group – S.E.S. For many years, Yong Ha did not dare to confess his feelings because Eugene was chosen by Korean men as his dream man, including many famous artists such as Tony Ahn (group H.O.T), Shin Hye Sung (Shinhwa), Kangta (H.O.T). ), Lee Ji Hoon, Yunho (DBSK)…
Yong Ha gradually conquered Eugene with sincere concern. They are careful not to reveal their relationship for fear of disapproval. According to Naver, Korean public opinion in the 1990s and early 2000s was very strict when idols dated. Experts studying culture and entertainment in this country have analyzed on television: the default of fans in the amount of money that artists receive, there is the cost of "selling" their private life, including love. . That is, artists can only be public figures. That's why most Korean stars choose to hide their love affairs.
In early 2003, the couple's relationship was revealed when hackers infiltrated Yong Ha's computer. This person immediately posted many pictures of the couple online, with Eugene sitting on Yong Ha's lap in a sensitive position. The media constantly published news related to the two artists, and the fans fiercely demanded that the star couple break up.
The Korea JoongAng Daily reported that the victim of the photo leak at that time was not Yong Ha, but Eugene. Public opinion publicly criticized her for being rude, mean and hard to hear. The manager also turned his back, joining the crowd that criticized her. The few fans who spoke out to protect the female singer were all beaten up.
Ahn Jeong Ho – a longtime fan – once called on the public to let go of Eugene but to no avail. "Eugene is also human. She has a life of her own, also knows how to vibrate and be with the person she wants. I think people are creating an unnecessary uproar," he said. Writer Cheon Soo Jin of Korea JoongAng Daily said Yong Ha couldn't stop her fans from hurting Eugene. After that, they accepted to break up because they couldn't stand the pressure.
The actor's mother said that in a drunken moment, Yong Ha cried a lot, he said Eugene was a desperate love, someone he would never forget in his life.
In a later interview, Yong Ha once expressed pain and regret: "After the movie Love You, I had a poetic love, but the media's excessive attention made our relationship difficult. She and I both suffer because the feeling of being in love is a sin for the audience. I can't stand being in love without being with her. Thousands of letters ask me to be just a public person and an artist. Is it possible that for the sake of my future and career, I have to leave the person I am passionate about and deeply in love with?".
After an incomplete love affair, Yong Ha was quiet and confused. For many years the actor blamed himself for not being able to protect his lover, to forget his sadness, he turned to alcohol. The actor's mother said that once when he was drunk, Yong Ha cried a lot and said that Eugene was a desperate love, someone he would never forget in his life.