The Cast of 'Reply 1988' after 8 years.
7 years have passed, the legendary stars of Reply 1988 have changed a lot today.
8 years have passed, Reply 1988 – the monument that has taken away a lot of tears and laughter from the audience has never stopped being hot. The group of close friends from the poor neighborhood that year also gradually became famous and known to the public, everyone has their own separate ways in both acting career, private life and beauty. The love story spanning more than half a decade of Hyeri and Ryu Jun Yeol still makes the audience admire when it comes to it.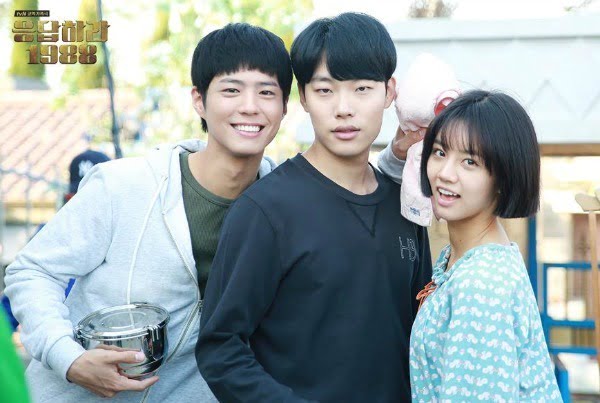 1. Hyeri
The neighbor Duk Sun (played by Hyeri) in Reply 1988 won the hearts of the audience. After the resounding success of Reply 1988, Hyeri's name emerged as an expected phenomenon that will explode on the Korean screen. "Nation's little sister" quickly covered television in Kim Chi in a series of titles such as: Two Cops, Miss Lee, historical blockbuster Monstrum,… However, her appearance in most titles these movies are all underrated, one color, stiff. She even had to apologize to the audience for her acting and had to receive the Korean Golden Raspberry Award for the Worst Actress category.
Although they should not be in love with Ryu Jun Yeol in the movie, in real life, the couple has a very happy love story that lasts for more than 6 years.
2. Ryu Jun Yeol
Ryu Jun Yeol plays the rich man Hwan, although he is a supporting actor, he has left a very special impression in the hearts of the audience. Hwan's echo in Reply 1988 raised Ryu Jun Yeol from an unknown actor to a potential name of Korean cinema. In the years following the end of Reply 1988, Ryu Jun Yeol diligently participated in a series of popular movie projects such as The King, Taxi Driver, Money, most recently the blockbuster Alien by director Choi Dong Hoon,… and achieved a lot of success, creating a certain position on the Korean screen.
His smooth and sweet love story with actress Hyeri is also loved and admired by the audience. The two have been together for more than 6 years, no noise, quiet but lasting.
3. Park Bo Gum
Possessing a handsome and talented appearance, after the role of the genius Choi Taek in Reply 1988, Park Bo Gum's name has risen in popularity in the Korean entertainment industry. The actor's coverage has increased significantly, continuously appearing in a series of outstanding drama titles such as: Moonlight Drawn By Clouds, Encounter co-starring Song Hye Kyo, Record Of Youth and cameo performance at Itaewon Class. However, in addition to the role of crown prince Lee Yeong in Moonlight Drawn By Clouds, which is highly appreciated, most of the remaining titles, Park Bo Gum's name is just standing still. Most recently, the role of a clone in the movie Seobok with handsome Gong Yoo.
In addition, Park Bo Gum also entered the field of singing, which has been his passion since childhood. The MV "Let's Go See The Stars" did not create a great resonance, but the gentle, sweet melody and warm voice have partly demonstrated Park Bo Gum's musical ability and talent. Secretly in private life, nearly 27-year-old Park Bo Gum is still alone after some vague dating rumors, which were quickly extinguished.
4. Go Kyung Pyo
Sun Woo in Reply 1988 – Go Kyung Pyo is currently still engrossed in a series of big and small movie titles on the Korean screen. Although it did not create a big resonance, but thanks to possessing a scholarly, handsome appearance and natural acting, Go Kyung Pyo is still a name that is loved and expected by the audience. From the ruthless killer Chi Do in the movie Coin Locker Girl, the rich young man Go Jung Won in Jealousy Incarnate, to his first leading role in his acting career in Strongest Deliveryman; and most recently, a sweet relationship with Seohyun in Private Lives.
The actor is also quite secretive about his personal life, rarely appearing in game shows, advertisements, …
5. Lee Se Young
Playing the role of the female lead's best friend (played by Hyeri), Lee Se Young impressed the audience with her natural and humorous acting, but her appearance was somewhat less beautiful. In the following years, Lee Se Young only participated in acting with a few lackluster supporting roles. Most recently, she had an overwhelming makeover when she appeared with a beautiful face without a dead angle, with a beautiful, unbelievable body. Accordingly, she admitted that there was no intervention of cutlery, but only injected botox every 6 months to have a small face and pointed chin, and the result of her efforts to lose 36kg after 2 years; Change the way you dress and make-up.
6.Kim Joo Hyuk
Kim Joo-hyuk is an extremely talented actor, before joining Reply 1988, he appeared in many popular TV series and movies such as My Wife Got Married (2008), The Servant (2010). ), Yourself and Yours (2016),… In Reply 1988, he played Choi Teak when he became Duk Sun's husband (2015). Unfortunately, after only 2 years of the show airing, tragedy happened to him.

On October 30, 2017, Kim Joo Hyuk was the victim of a serious car accident, which took place around 4:30 pm (KST) in Seoul. The actor's car overturned and he was quickly taken to Konkuk University Hospital. According to the police, it appears the accident happened after he had symptoms of a heart attack." Joo Hyuk was pronounced dead two hours after arriving at the hospital from a fatal head injury. His passing leaves a lot of regrets for the fans.
7.Jeon Mi Seon
Jeon Mi Seon is one of the veteran Korean actresses. She is known for her roles in famous films such as Memories of Murder (2003), Moon Embraping the Sun (2012), Hide and Seek (2013), etc. Mi Seon appeared in the movie Reply 1988 with the role. Sung Bo-ra – Duk Sun's older sister in adulthood. Unfortunately, four years after starring in the film, she passed away at the age of 48.
On June 29, 2019, the actress was found dead at a hotel in Jeonju and according to the police, it is likely that she committed suicide due to depression. After Mi Seon's passing, many viewers expressed their deep condolences and once again warned everyone about depression.
8. Choi Sung Won
Choi Sung Won appeared as Sung No Eul – Duk Sun's younger brother in Reply 1988. This character is the youngest child in Duk Sun's family with a look much older than his real age, but very naive and obedient. . However, only a year after participating in this movie, the actor discovered an illness after a health check.

More specifically, after a physical examination on May 4, 2016, Choi Sung Won was diagnosed with acute myeloid leukemia – a myeloid cancer of blood cells. However, the doctor said that the actor only had the disease in the early stages and still had a very high chance of recovery. However, until now he still has to endure to treat this terrible disease. It often leaves him unconscious and is often hospitalized for treatment.
9. Bora (Ryu Hye Young), the impressive "hot-tempered girl" of "Reply 1988" is surprisingly changed after 7 years!
Does "Reply 1988" have a villain?
Topics related to Reply 1988 still receive a lot of attention on SNS nowadays although many years have passed. As a drama without a true villain, Reply 1988 still has a character who is said to be the "hot-tempered girl" ofthis series. That is Bora (Ryu Hye Young), the eldest daughter of the Sung family, who is worthy of the title "hot tempered girl" of Ssangmundong.

Bora appeared in the early episodes of the series with the image of an unpleasant, difficult-to-please older sister who always forced the whole family to do as she pleased. As the eldest child, she was truly an intelligent but heartless daughter and sister. She did not sympathize with her family's situation, forcing her mother to get her new glasses even though they didn't have enough money to pay her tuition fee. She was also very mean to her younger brother and sister, which was totally different from Duk Sun (Hyeri). In particular, to Duk Sun, Bora was extremely mean and many times in front of her parents pulling her sister's hair and shouting at her.

Bora had a bad image in the whole neighborhood for her bad temper. Duk Sun's friends and their parents were all afraid of this girl, Sun Woo's mother didn't even dare to reason with her.
Some might think that she would become the only character to be hated in "Reply 1988," but just a few episodes later, she immediately gained the audience's sympathy. Hidden behind her grumpy face was a warm, always living with 100% enthusiasm, always full of vitality, intelligent, well-educated and caring Bora. Bora was the representative of ideals and dreams in the small neighborhood of Ssangmundong. Her only problem was that she was not good at expressing her true feelings.
Bora gave up her dream of becoming a lawyer because her family could not afford it. She was the mental support for the whole family when her grandmother died. Compared to her two naive younger siblings, Bora was extremely mature. She did not like and did not know how to show affection, so she only dared to eavesdrop when her sister appeared on TV, secretly gave her father the letter on her wedding day because she was too shy to say 'thank you' to him directly. With her very small actions, Bora has made "Reply 1988" a complete drama.
Currently after 7 years since "Reply 1988" premiered, actress Ryu Hye Young is still extremely young and beautiful, Ryu Hye Young's appearance has not changed compared to the time when acting in "Reply" 1988″ and many viewers gave her the title "beautiful girl forgotten by time".

In 2021, she also had a feverish comeback in the drama "Law School" on JTBC.