High kick child star after 12 years: 2 actresses with 2 different fates, Jin Ji Hee has a successful career; Shin Ae nothing!
High kick child star after 12 years: 2 actresses with 2 different fates, Jin Ji Hee became a rising star; Shin Ae was entangled in many scandals, her career was not outstanding!
12 years ago, the TV series High kick part 2 caused a storm all over Asia. The film is considered a launching pad to help a series of actors become famous and come closer to Fans.
Jin Ji Hee plays Hae Ri, the landlord's granddaughter, and Seo Shin Ae transforms into Shin Ae – the maid's sister who is the two child stars who receive the most attention from the audience. Thanks to that, the two actors became the subject of attracting public opinion, catching the "green eyes" of many directors, but so far, their reputation, career, … are increasingly different from each other.

1.Jin Ji Hee
Jin Ji Hee was born in 1999, is a popular child star of the Korean screen, impressing with the role of Hae Ri – the insolent girl in High kick. Many years after the broadcast of the film, now the child is 21 years old, transformed into a beautiful beauty, has a stable career, besides acting, she also participates in the MV, singing the soundtrack.
Most recently, she appeared in the movie that is storming, with high ratings – Penthouse. Despite being busy with work schedules, Jin Ji Hee still fully participates in school activities, becoming a prestigious university student with great achievements.

Jin Ji Hee's academic achievements in middle school and high school were in the top two of the school. After graduating from high school, Jin Ji Hee continued to study at the University and passed the Department of Theater and Cinema, Dongguk University. This is a school with a "famous" teaching quality in Seoul, ranked 11th in Korea. The beautiful, spacious campus attracts a large number of students to Dongguk University every year.
Dongguk University has always proven itself to be a class and quality school in Korea, always in the top of the schools that are considered the most worth studying. Idols who have studied here include: Yoona and Seohyun (SNSD), Na Eun (A Pink), Eun Jung (T-ara), …

In addition to acting, Jin Ji Hee is highly focused on her studies. Previously, the young actress attracted great attention when revealing her remarkable academic achievement at school. "I really wanted to do well in school, so I studied hard. In the second semester of my first year of university, I received an A+ in all subjects and ranked first in the department," Jin Ji said. Hee revealed.
Many viewers commented that, with the potential of the appearance of the current top female stars, and the bright natural acting, Jin Ji Hee is a potential bright star of the Korean entertainment industry in the future.
2.Seo Shin Ae
After her lifelong role in High kick, Shin Ae continued to regularly appear in other hit movies and TV series, but there was no role to help her overcome the huge shadow. The only thing that the audience remembers about Shin Ae after the role of the same name is probably the time when she caused a stir on the red carpet of the Busan International Film Festival with a dress that was cut quite deep at the chest when she was 19 years old. Her outfit made the headlines of countless articles and many netizens expressed surprise at the actress' mature image.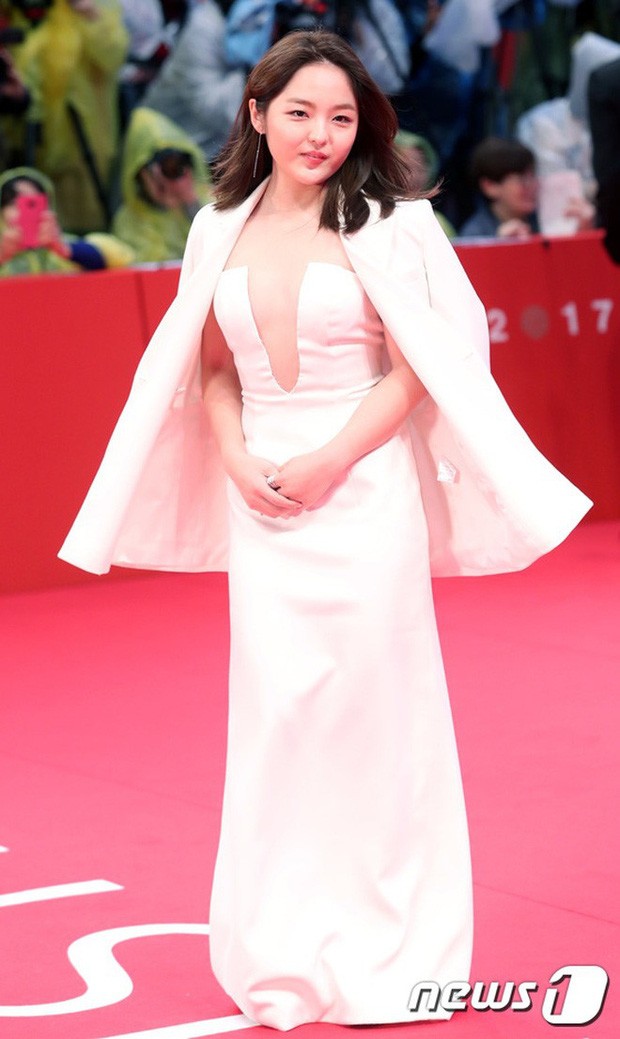 This dress is like a statement by Shin Ae about shedding the image of a child actress, but it also entails many criticisms about her outstanding appearance. Many people left malicious comments that Shin Ae failed puberty, lost her lovely and pretty features.
Four years after the day that caused a fever with a striking dress, Shin Ae only participated in a few more films and then almost stopped acting. Earlier this year, she again caused a fever when she shared that she was a victim of school violence in middle school with hints about the abuser that made netizens think of Soojin (G)I-DLE.

Currently, Shin Ae has regained her slim figure, but she still has no new artistic activities. On her personal page, she often shows off beautiful pictures. Besides that, she also writes books, practice making short films as a director, screenwriter and YouTuber.