A portrait of Kim Hyun Joong's ex-girlfriend – The woman who destroy Kim Hyun Joong's career with accusing her of being forced to have an abortion.
According to a report from the Korean court agency, the Seoul Supreme Court asked Choi Hye Mi – the ex-girlfriend of singer and actor Kim Hyun Joong, to pay 100 million won, plus at the cost of additional damage because of the act of defaming honor and dignity.

Back in August 2014, the first legal battle between Kim Hyun Joong and Choi Hye Mi broke out that shook the Korean entertainment industry. At that time, Hye Mi filed a lawsuit against SS501 leader for physical assault, severely damaging her 6 ribs.
However, the lawsuit ended after Kim Hyun Joong promised to answer the press with an official apology to Choi Hye Mi, compensation for Hye Mi 600 million won and his girlfriend promised to keep it private. this secret. In addition, actor Kim Hyun Joong was also charged with assault and fined 5 million won.

Then, in April 2015, Choi Hye Mi filed a lawsuit against Kim Hyun Joong, claiming that the male star committed violent acts that resulted in her miscarriage. Choi Hye Mi also said that Kim Hyun Joong side tried to force her to have an abortion.
In July of the same year, Kim Hyun Joong filed a lawsuit against Choi Hye Mi for violating their previous court contract as well as defaming his honor and image.
In the middle of the lawsuit, Choi Hye Mi gave birth to Kim Hyun Joong's son in September of 2015. It's reported that Choi Hye Mi is currently raising the child on her own, with Kim Hyun Joong forbidden from seeing him.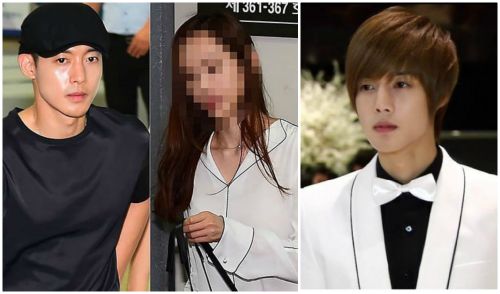 Through a number of district court rulings, appellate trials were held. Finally, the Supreme Court ruled claiming there was little evidence to believe that Choi Hye Mi suffered a miscarriage or was forced to have an abortion.
Recently, Kim Hyun Joong has come back with a more positive image, praised by the Knet after saving the life of a stroke chef at the restaurant.