From Park Shin-hye to Son Ye-jin, Lee Min-ho's on-screen lovers announced their marriage one after another
Within the first two months of this year, 2 actresses who used to play Lee Min-ho's on-screen lovers announced their marriage.
Park Shin-hye and Choi Tae-joon have just amazed the whole Korean entertainment industry with their spectacular wedding at the end of January. Apart from the groom and bride's sweet moments, the public also paid attention to Lee Min-ho, who appeared at the wedding ceremony as Kim Tan of "The Heirs". Lee Min-ho's witty wish for Park Shin-hye, who used to be his on-screen partner, "Am I congratulating you?" (which sounds like a famous line in "The Heirs"), became a trending keyword on the Internet that day.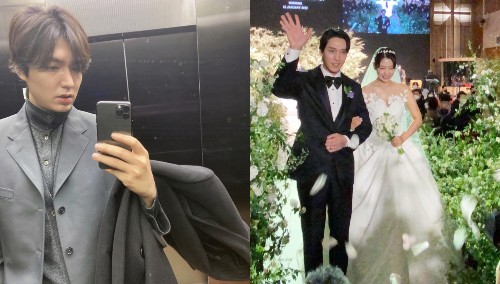 A month has not passed since Park Shin-hye got married, but netizens once again called out Lee Min-ho when Son Ye-jin and Hyun Bin announced their wedding, which will be held this March. In the past, So Ye-jin and Lee Min-ho formed a couple in "Personal Taste". This work didn't become a hit but the two's chemistry received many favorable responses. In fact, Son Ye-jin and Lee Min-ho even had a bed scene in that drama.
While his co-stars have already had their new families, Lee Min-ho is still single. Some netizens even mentioned Park Min-young, who was also his co-star, and wondered if the same thing would happen again.
Netizens' comments:
I wondered how Lee Min-ho would feel if Park Min-young and Park Seo-joon also announced their marriage. Would he be invited as Lee Yoo-seong or ex-boyfriend?
It would be so funny if Park Min-young also got married
Lee Min-ho's co-stars are all getting married. Is there any possibility for the couple Lee Min-ho and Kim Go-eun to have an ending like that?
He keeps being invited to the weddings of his"ex-girlfriends"
Park Shin-hye and Hyun Bin used to work together, too.