5 K-Dramas That Remind Us About First Love
Here is a list of K-Dramas about first love that you should definitely add to your watchlist!
One of the best parts about watching a K-Drama is the heart-racing romance. There's a certain allure to watching two characters fall in love while navigating various obstacles and hardships. Regardless of if it's a one-sided crush or mutual relationship, romance in K-Dramas strike a chord in every viewer.
While there are many types of relationships out there, there's something special about first love that reinvigorates all the romantic cells in our body. The first time holding hands, the first time being in a relationship, the first kiss. Although there are many K-Dramas that highlight the first love experience, viewers always rejoice when it's depicted on screen. The bliss that comes from watching characters fall in love for the first time is simply unmatched and a welcome experience for any K-Drama fan.
Because there are so many series out there, we decided to make this list of K-Dramas about first love that you should definitely add to your watchlist!
1. "Reply 1988"
The "Reply" series contains some of the most iconic dramas in the industry. But for this list, we'll only focus on one — namely, "Reply 1988". The legendary drama stars HyeRi, Ryu JunYeol, Ko KyungPyo, Park BoGum, and Lee DongHwi. They play a close-knit group of five friends who all reside in the same neighborhood in Seoul, in the year 1988.
While the show highlights their passionate adolescence and unwavering friendship, it also includes elements of first love. It doesn't stop at two people in the friend group falling for each other, but brings in a third to form an ill-fated love triangle. While there's bound to be heartbreak, the romance trumps it all and brings a bright, glowing smile to your face. "Reply 1988" is an amazing drama that you'll end up watching over and over again.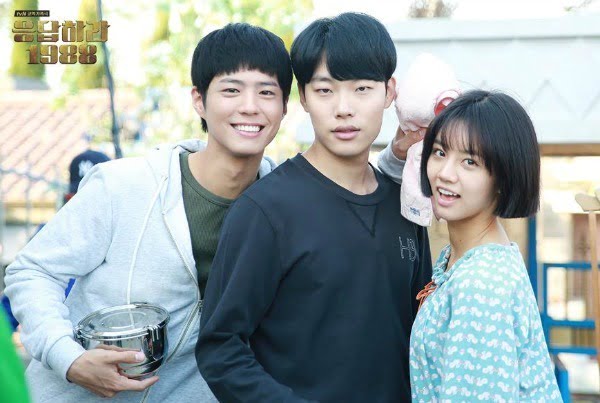 2. "Extraordinary You"
If you're searching for a warm romance story, then look no further than "Extraordinary You". The webtoon-based drama enlisted a youthful cast in the likes of Kim HyeYoon, SF9's RoWoon, Lee JaeWook, Lee NaEun, and Kim YoungDae among many others. It depicts the life of Eun DanOh (Kim HyeYoon) as she finds out that she's a supporting character inside a romance manga named "Secret". After making this discovery, she decides to go against fate, searching for love and a story suitable for a main character.
Watching Eun DanOh overcome various obstacles in order to gain and hold onto her first love is extremely encouraging. There comes a point in time that we all learn that some things are just worth fighting for, and one of those things happens to be love! As you dive deeper into the fantasy romance, you can't help but cheer for DanOh on her journey to become her own main character. Eun DanOh, fighting!
3. "Our Beloved Summer"
Although "Our Beloved Summer" premiered on December 6, 2021, the drama brought so much warmth from beginning to end. With such accomplished main leads in Choi WooShik and Kim DaMi, it's no surprise that the romance drama received endless amount of praise and recognition. Under the guise of a youth documentary, "Our Beloved Summer" depicts the relationship of Choi Woong (Choi WooShik) and Kook YeonSu (Kim DaMi) who reunite after 10 years. They discover that their romance story is far from over and begin to fall for one another once again.
The widely recognized drama has absolutely everything: enemies to lovers, a reunion between exes, as well as high school puppy love. The beautiful cinematography adds varying depth to the romance scenes, making your heart ache for the characters you see on screen. Choi Woong and Kook YeonSu's storied history is touching and brings an unforgettable vulnerability. Although fair warning, you may need to stock up on tissue boxes, just in case.
4. "Still 17"
"Still 17" stars the talented Shin HaeSun and Yang SeJong as its main leads. The drama depicts the story of Woo SeoRi (Shin HaeSun), a budding 17 year old genius violinist. One day, she gets into an accident and falls into a coma for 13 years. Afterwards, she wakes up as a 30 year old, but still maintains the mind of a teenager. She meets Gong WooJin (Yang SeJong) and her life begins to change.
While Woo SeoRi's body resembles an adult, her mind still retains its teenage naivety and innocence. It makes her romance story with Gong WooJin special as she learns various life lessons, all with him by her side. "Still 17" shows that even at 30, there's still many things to learn and that it's never too late for first-time experiences, including first love. Your heart will absolutely flutter with excitement while watching this drama!
5. "Twenty-Five, Twenty-One"
"Twenty-Five, Twenty-One" shot to worldwide fame and kept viewers glued to their seats every episode. Staring Kim TaeRi as Na HeeDo and Nam JooHyuk as Baek YiJin, the drama depicted the story of two youths tirelessly striving to accomplish their dreams.
While half of the series showcases Na HeeDo and Baek YiJin's uplifting friendship, they find that romantic feelings are not too far behind. They must tip-toe the line of friendship and love, all while making great strides towards their goals and aspirations. The series is inspiring, heartfelt, and touches upon first love in a way that you cannot help but be caught up in a wave of nostalgia. "Twenty-Five, Twenty-One" is a perfect watch and not only for first love enthusiasts