This actor who had to drink dirty water in a puddle on the roadside is now a top actor next to Song Hye Kyo!
The success of the TV series The Glory helped the cast in the film become famous. In addition to the female lead Song Hye Kyo, the remaining actors of The Glory also contributed to creating a dramatic and attractive revenge Kdrama.
Actor Jung Sung Il is also an interesting element of The Glory. In the drama, Jung Sung Il plays Ha Do Young, the husband of the perpetrator of school violence Park Yeon Jin (played by Lim Ji Yeon) and one of the targets approached by Moon Dong Eun (played by Song Hye Kyo) in the plot. her revenge plan.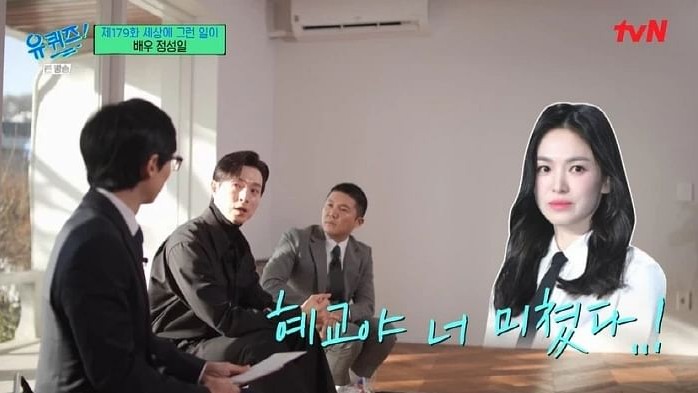 The fame of The Glory helps the audience's interest in Jung Sung Il gradually increase. Recently, the 43-year-old actor was invited to be a guest on the show You Quiz on the Block (Korea). For the first time, he shared his life and career stories.
Jung Sung Il revealed about his difficult childhood and the time when his parents were not around. This difficult period has been engraved in the mind of the Korean actor, reminding him never to forget the merits of his sister.
Jung Sung Il recounted, his mother was not well, had to constantly go to treatment when he was in elementary school. His father pursued a free life, so he almost did not appear at home. During those years, he and his sister lived with her. Because she had health problems, the two sisters had to rely on each other to take care of her. During this difficult period, the older sister took care of Jung Sung Il instead of her parents.
"My mother has been sick since I was a child. She has to be treated in a nursing center far from home, and my father likes to travel, so he never comes home. My sister is the only one who cares about me. We lived with my grandmother, but she was so weak that she couldn't go to the toilet on her own. So, my sisters and I have been taking care of her since elementary school. She passed away when I was in 6th grade," he said.
The actor choked and added: "My sister is the only one who raised me even though she is only 2 years older than me. Once when she was going to school, I was so thirsty that my neck was dry but there was no water to drink. When I saw a There was still a puddle of rain water left on the road, I waited until the dirt settled to the bottom and drank it. When I heard about it, my sister scolded me and said "should wait for her to come back".
The actor said that his sister has shouldered many things in the family. Talking about the biggest benefactor in his life, Jung Sung Il said, "My older sister is very good at cooking. She always made food for me even though she was only an elementary school student. At that time, me and my older sister just childrens. But my sister never cried in front of me."

Also on the show You Quiz on the Block, Jung Sung Il confided that he used to live without dreams or ambitions because of his poor family situation. It wasn't until the year Jung Sung Il entered high school that his mother recovered from her illness and returned home. His mother wanted him to go to college, but his sister advised him to pursue an artistic career.
Jung Sung Il is currently a South Korean television actor. The 43-year-old actor started his acting career in 2002. However, he is not widely known to the audience.
He has appeared in a number of movies, such as A Frozen Flower, Different Dreams… After many efforts, Jung Sung Il is now known to many people thanks to The Glory. The 43-year-old actor admits that his poor past has shaped his hard work, patience and efforts later on.
Not only has a stable career, but he also has a desirable happy home. In the show You Quiz on the Block, the actor also talked about his 7-year marriage. The handsome star said that he met his wife when he was in his 20s, right after being discharged from the army.

After meeting a few times as friends, Jung Sung Il's wife went to the US to study. From there, they lost contact with each other for about 7 years. A few years later, Jung Sung Il accidentally found his wife's email account, so he sent her a letter asking for her. His wife responded and since then, they have resumed their relationship.
Despite being far apart, Jung Sung Il and his wife keep in touch regularly. They loved each other for nearly 3 years before officially meeting outside. When asked about the feeling of meeting his girlfriend after 3 years of long distance relationship, Jung Sung Il said, "Instead of feeling awkward, I'm glad to see her again after such a long time."
The actor added that, despite losing contact with him for nearly 7 years, his wife still kept a secret relationship with his biological mother. She also took the initiative to take her to a doctor when she returned to Korea. This action of his wife touched Jung Sung Il and realized that this was the girl he could not lose.
Only 3 months after meeting again in Seoul (Korea), the couple decided to get married. The romantic love story is like a psychological drama of the 43-year-old actor, making the MC of the program and the audience present at the studio both attracted. Up to now, Jung Sung Il and his wife have been living happily for 7 years.