CCTV revealed the moment The Leaves actress fell into the river and tried to reach for the lifebuoy but was pushed away by her friend.
It can be said that the death of Tangmo Nida (actress of The Leaves) shocked the Thai entertainment industry. Not only the authorities but the media, fans and netizens all joined hands to analyze a series of details related to this tragic accident. There are many questions raised, but not all issues are fully and convincingly explained.
Recently, on the social network appeared images taken from a news report of a Thai TV channel. This photo is said to be cut from an infrared clip recording the moment below the boat there is something quite large and red. This detail raises the question of whether this is the body of Tangmo Nida and whether the actress was dragged under the boat in the cold water after falling into the river.

Not stopping there, another netizen also pointed out in the clip, the male character is bending over to adjust the lifebuoy and there is something like an arm reaching out to the water trying to cling to this object. This clip is shared a lot on social networking platforms.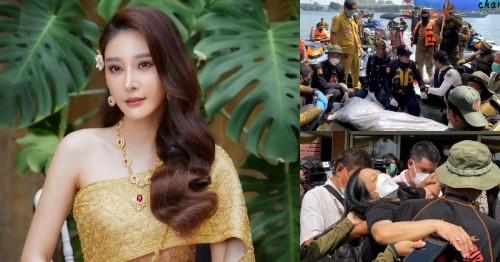 Currently, fans still cannot know the exact truth behind this bewildering and worrying detail. There are too many twists and turns in the case, especially the attitudes of the characters involved are controversial. The public is still waiting for the authorities to answer and soon make a conclusion.
The biological mother fainted when she saw the body of The Leaves actress being picked up from the river