Top 10 most beautiful Korean actresses at the age of 35-44 as voted by Japanese fans
These thirty and forty-something actresses are all known for their timeless beauty.
Korea's entertainment industry has continued to see the rise of actors in their 20s lately, but the beauty and impact of more mature female stars at the age of 35 or older are still considered the "walls". Recently, Japan's website Rankingoo held a poll titled "The most beautiful Korean actresses between the ages of 35 and 44″ and here are the final results for the Top 10.
Top 10: Jun Ji Hyun
Looking at Jun Ji Hyun's beautiful face, awesome figure and attractive aura, it's hard to believe she is 41 years old. Always taking good care of her appearance, ever since she shot to stardom in her 20s until now, Jun Ji Hyun has consistently remained on top among the most beautiful Korean actresses.
Top 9: Go Jun Hee
Having a luxurious aura with an impressive height of 1m72, Go Jun Hee never fails to stand out, even in second lead roles, such as her chic character with the iconic short haircut in "She Was Pretty". Go Jun Hee looks so young that it's almost impossible to tell she turns 37 years old this year.
Top 8: Han Ji Min
As one of the top visual goddesses among Korean actresses born in 1982, Han Ji Min has always created perfect on-screen face combinations with her male co-stars, even younger ones like Nam Joo Hyuk who is 12 years old younger. The 40-year-old actress's timeless beauty is the reason why the age gap with her junior male co-stars does not matter. Thanks to her tiny face, petite figure, and pure smile, Han Ji Min looks like she has not aged a day.
Top 7: Lee Bo Young
Lee Bo Young is 43 years old this year. She is also married with 2 children. Every time Lee Bo Young appears on the screen, she amazes viewers with how gorgeous and elegant she looks. Lee Bo Young's beautiful skin in her 40s cannot help but draw envy.
Top 6: Kim Ha Neul
Kim Ha Neul is a veteran actress who has been active in the industry since the 2000s. Turning 44 this year, Kim Ha Neul boasts a mature beauty that proves she has aged like fine wine. When acting alongside Lee Do Hyun with an age difference of 17 years in 18 Again, Kim Ha Neul still manages to spark great chemistry with her junior, partly thanks to how young and radiant she looks.
Top 5: Park Min Young
Park Min Young turns 36 years old this year, but it seems like she is aging backwards. Her refreshing beauty has not changed a bit over all these years. With such lovely visuals, Park Min Young can play a couple with younger male co-stars and the age gap should never be a problem.
Top 4: Yoo In Na
The real age of Yoo In Na always comes as a big surprise for those who have yet to know. She is now 40 years old, but she looks like she could pass off as a twentyish. A pretty face, a great body and natural acting skills, Yoo In Na lacks nothing.
Top 3: Song Hye Kyo
Song Hye Kyo takes 3rd place in the poll, which is well-deserved because it's basically impossible to not include her name whenever it comes to the most beautiful Korean actresses. At the age of 41, she is as stunning as in her 20s but flaunts a more mature aura. She stills looks much younger than her actual age. That's why she can still play on-screen romantic partners of actors born in the 90s and capture much attention.
Top 2: Kim Tae Hee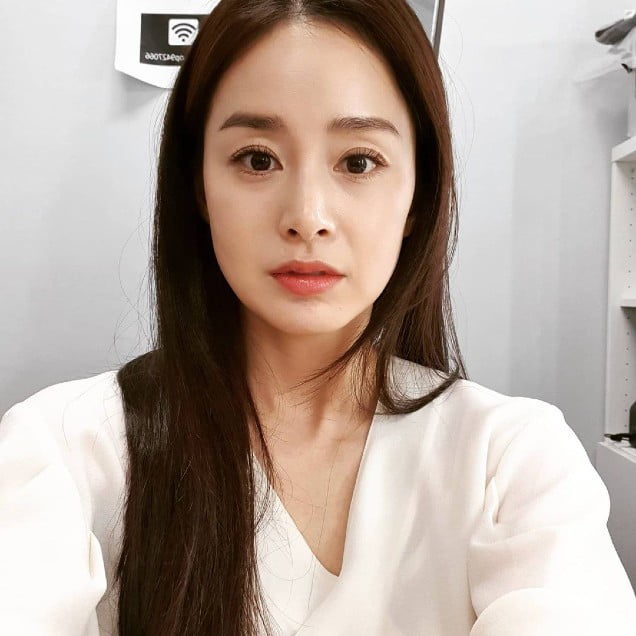 With an iconic beauty at the age of 42, it is no surprise that Kim Tae Hee won 2nd place in this poll. One special thing about Kim Tae Hee is that every time she smiles, wrinkles will appear around her eyes, regardless of whether she was in her 20s or now in her 40s. That's why Kim Tae Hee's beauty stays unchanged no matter how many years have passed. She always radiates a balance of sweet, feminine, refined vibes.
Top 1: Son Ye Jin
The winner of the poll is the "nation's first love" Son Ye Jin. Son Ye Jin's beauty ever since she made her first on-screen appearance has been legendary. Looking at Son Ye Jin back when she was only 19-20 and compared to now when she is 40, there is barely any difference. She has aged gracefully.