Revealing the mysterious and rich father of Park Solomon !
On January 28, Korean latest zombie thriller series All Of Us Are Dead was officially available on Netflix. Season 1 with 12 episodes has received a lot of good reviews from global viewers within only a short time. Besides the exciting storyline and twists, the young cast with eye-catching visuals also contributes to the irresistible charm of All Of Us Are Dead. Among the main characters, the most outstanding one is Lee Su Hyeok.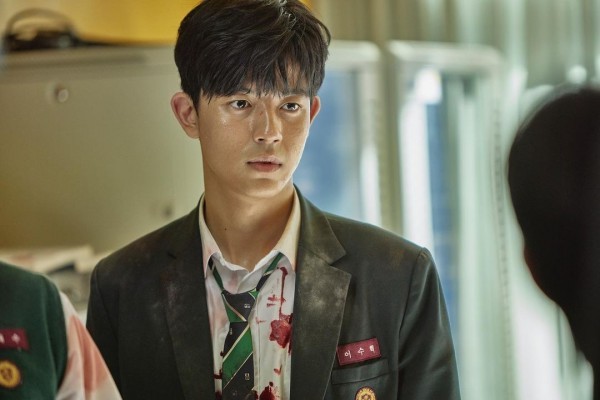 Accordingly, the handsome male student Lee Su Hyeok is played by actor Park Solomon. Lee Su Hyeok has a handsome face and tall figure, making the female lead, as well as many viewers, fall for him. He captures the hearts of viewers not only with his good looks but also with the impressive action sequences. Besides the male lead, Lee Su Hyeok is indeed the "hero" of the team when he is willing to go out and fight with all his might to protect his friends from the deadly zombies.
Only a day after All Of Us Are Dead was officially released globally, Park Solomon became the crush of many viewers around the world. Park Solomon was born on November 11, 1999. He has a mesmerizing body and an ideal height of 1m83.
Park Solomon may not be a too familiar name, but he is not a brand new rookie. The 22-year-old actor appeared in two K-dramas in 2014, Bride Of The Century and 4 Legendary Witches. Park Solomon also attracted attention when playing Ji Hoon in the high school rom-com Sweet Revenge (2017) with Kim Hwang Gi and Ki Gun Woo. Solomon also starred in the final installment of the horror film Horror Stories 3 (2016).

In 2019, Park Solomon and actor Zhang Dada starred in Lookism – the drama adaptation of the webtoon of the same name. This drama received a warm reception from the audience because of the interesting body swap story between two high school students. In an interview with WeTV, Park Solomon once said that he had to learn Chinese as well as eat a grasshopper in the last scene. Park Solomon also revealed that his goal is to strive to become a good actor in the future.
It's not hard to see why Park Solomon was chosen to be one of the actors in the Netflix survival series. Not only possessing a handsome face, the actor born in 1999 also has an impressive body. On his personal Instagram page with hundreds of thousands of followers, the young actor also often shows off pictures of him practicing seriously from swimming to weightlifting.
According to Korean media, Park Solomon completed his studies at Apgujeong High School in the Gangnam area, Seoul, South Korea. This is also the school that many Korean idols like Kwon Hyun Bin, Nayeon (TWICE), Zuho (SF9) attended. This young star is a student of Ahn Hyuk Mo – director of Sidus HQ Acting Academy, who used to train acting skills for SNSD, Siwon (SUPER JUNIOR) and Song Joong Ki…
Speaking of which, you probably already know that Park Solomon certainly comes from an extremely wealthy family.
To attend Apgujeong High School in the Gangnam area, One of the schools for the rich children of the Gangnam area with a tuition fee of 200,000 USD a year. One thing is for sure, Park Solomon's parents are very wealthy and care about him.
As revealed on Nate Pann, Park Solomon's father is a wealthy real estate investor and he has wide connections in the Korean political world. It is known that he sponsored the election campaign of Seoul Mayor Park Won-soon in 2011 with the amount of up to 2 million Won.
Surely with the enthusiastic support from such a family with such good economic conditions and his talent, Park Solomon will quickly have a good acting career.

Park Solomon is expected to become a name that attracts a lot of attention in the near future.
Currently, All Of Us Are Dead is still a series that receives great attention from audiences everywhere. Park Solomon is also gradually becoming a fan-attractor thanks to his super cool appearance. Up to now, the number of followers on this actor's SNS is also increasing constantly.