Top 5 most memorable cameo appearances in 2021 K-dramas
Not the leading cast, these K-drama cameos are the ones who take the spotlight.
2021 introduced the viewers to numerous good Korean TV series. Not only the main and supporting cast members, sometimes actors taking on cameo roles also draw much attention. Let's take a look at 5 most memorable cameo appearances in Korean dramas of the past year.
Top 5: BTS's V
This is a particularly interesting case, because BTS did not have any in-person cameo appearances in 2021, but they always appear out of nowhere and take the viewers by surprise. Like in Lovestruck In The City or Hospital Playlist, both male leads Ji Chang Wook and Jung Kyung Ho are seen promoting the coffee brand with a picture of V on it. Needless to say, ARMYs cannot get any more excited watching this.
Top 4: Gong Yoo – Lee Byung Hun
Gong Yoo

Squid Game is unarguably the most popular series of 2021 and Gong Yoo, despite his short screen time as a cameo, plays a crucial role. Because without him, the story of Squid Game would stop right at the beginning. He shows up as a recruiter of a mysterious organization, who challenges the male lead Sung Ki Hoon to participate in Squid Game with a tempting reward and pushes this character into a deadly battle to survive. Who would say no to such a fine man like Gong Yoo, right?
Lee Byung Hun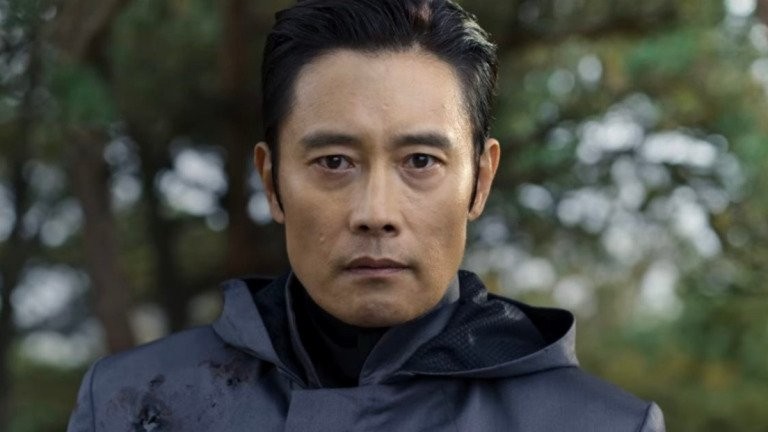 Besides Gong Yoo, Squid Game has another important cameo played by Lee Byung Hun. He takes on the role of The Front Man wearing a mysterious black outfit and a mask, who oversees the game. The moment he takes off the mask to reveal his face, it turns out to be Lee Byung Hun, causing every viewer to be stunned and speechless. Lee Byung Hun once again proves his impact even with only a short appearance.
Top 3: Lee Sang Woo
Lee Sang Woo's cameo appearance in Penthouse is truly a pleasant surprise, because he is the real-life husband of actress Kim So Yeon. It gets even more special when Lee Sang Woo's role in the drama is a journalist who often publishes unfavorable news for Kim So Yeon's character Cheon Seo Jin.
After the episode with Lee Sang Woo's appearance aired, many fans jokingly said they pity Cheon Seo Jin because she suffers from both her on-screen and real-life husbands.
Top 2: Minho
It would be remiss not to mention Minho in the movie Yumi's Cells. This is an impressive cameo role in 2021. In the drama, Minho plays Choi Woo Gi, the first crush of the female lead Yumi, who is handsome, polite and very cute.
But the reason for Minho to appear at the beginning of the drama is because he was the one who introduced his cousin as the male lead Ahn Bo Hyun to the female lead. As for Woo Gi himself, he is very attractive to women, but he already has a lover, who is not a girl.
Top 1: Kim Yoo Jung
And the most prominent cameo character in this 2021 is Kim Yoo Jung with an appearance in Kim Soo Hyun's One Ordinary Day. She appeared in the final episode, even at the end of the drama and made everyone get goosebumps with excitement.
Kim Yoo Jung only appeared for 1 minute and didn't say a word, but her eyes also left an indelible impression on viewers. Her character also fell into the same situation as the male lead Hyun Soo, who was unjustly sentenced. This scene opens up the hope that the drama will produce the second season, but all is just speculation because Kim Yoo Jung might participate simply to support director Lee Myung Woo and senior Kim Soo Hyun.