Dispatch's couple reveal in 2022: BTS is still a mystery, will BLACKPINK be the target again?
Will a Kpop idol couple be exposed by Dispatch on the first day of 2022?
As 2021 is ending, fans are getting more curious about the celebrity couple to be revealed by Dispatch on 2022 New Year's Day. On December 4, a discussion about the 2022 New Year's couple of Dispatch drew much attention on Pann Nate. Fans list out members of idol groups with many dating hints and high chances of getting exposed by Dispatch. Netizens also recall the couple that Dispatch revealed on January 1, 2019: BLACKPINK's Jennie and EXO's Kai, and look forward to the dating report of other two top idols like Jennie and Kai on the upcoming New Year's Day.
Dispatch's couple reveal in 2022
Many netizens also wonder why BTS has never been caught dating over the years. Do Big Hit and Dispatch have some kind of "secret deal" to protect BTS members' personal lives from the media?
In addition, the rumored couple that netizens mentioned the most is Ryujin (ITZY) and Haechan (NCT Dream). Their dating rumor broke out in May 2021, when Haechan was discovered using a personal account to follow ITZY's Vlive channel. After that, fans also pointed out mang the dating evidence between the two idols. Although nothing is clear yet, many commenters are still predicting this will be Dispatch's New Year couple.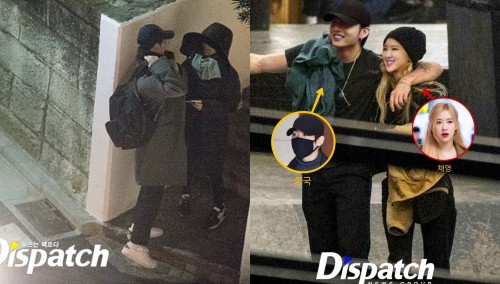 Some comments:
Isn't Haechan and Ryujin's dating story already obvious?
Honestly, I'm curious about other BLACKPINK members who haven't been caught up in dating rumors.
After all, Kai – Jennie are the most beautiful couple. EXO was still popular at that time while BLACKPINK was also a rising group. A popular female idol dating an A-list male idol.
Everyone knows that it will most likely be Haechan – Ryujin.
What a pity, Jennie still matches Kai better than G-Dragon. Wish Jennie will get back with Kai.
If BTS were to reveal their dating news, it would be a mess.
I guess IU is in a relationship, her songs are so sweet lately.
Jisoo, Rosé, Nayeon, Sana, Seulgi and Wendy. I wonder who they are dating.
What happens when the upcoming dating news is different from everyone's expectations? The New Year couples are almost unpredictable.