Boys Over Flowers star cast after 14 years.
In early 2009, the movie Boys Over Flowers aired and caused a fever in Asia with a cast of handsome boys and girls like Lee Min Ho, Goo Hye Sun, Kim Bum… After 14 years, the audience still remembers and loves them, love this movie. So how is the life and career of the Boys Over Flowers stars after 13 years now?
1. Lee Min Ho
After Boys Over Flowers, Lee Min Ho became a famous superstar in Asia, Lee Min Ho has become a seasoned actor over the years since his breakout role Goo Joon Pyo. He has won leading roles in a series of extremely popular TV series such as "City Hunter", "Personal Taste", "Faith", "The Heirs" and "Legend of the Blue Sea". His first movie lead role was "Gangnam Blues" in 2015.
In 2011, Lee Min Ho confirmed that he was dating his "City Hunters" co-star, actress Park Min Young. However, their relationship lasted less than a year. From 2015-2017, he publicly dated "national first love" Suzy, but they also broke up. Most recently, Lee Min Ho continues to become a hot name when returning with the drama "The King: Eternal Monarch", written by screenwriter Kim Eun Sook.
In 2022 Lee Min Ho returned with the role in "Pachinko", the film quickly received great success around the world. Currently, he is busy with the filming schedule of "Pachinko" season 2.
2. Goo Hye Sun
Since the end of the drama, the female lead Goo Hye Sun has developed various roles such as actress, singer-songwriter, film director, producer, and writer. She has written and directed films such as "Magic", "Fragment of Sweet Memories", and "Daughter".
Goo Hye Sun Film Company was established in 2011 and "The Peach Tree" is the first project made by this company. She also composed the OST for the movie and released a book based on the said work. above. In addition, she also starred in the dramas "Take Care of Us", "Captain", "Angel Eyes" and "Blood".
In 2016, Goo Hye Sun married actor Ahn Jaehyun. The couple fell in love after acting together in the movie "Blood". However, their marriage was officially broken up in August 2019, followed by a series of troubles that heavily affected Goo Hye Sun's image.
3.Kim Hyun Joong
The former SS501 member went on to have a successful solo career in Korea and Japan after the drama ended. He also starred in dramas such as "Playful Kiss", "Inspires Generation" and "Barefoot Friends". Although not in the top popular movies in Korea, "Playful Kiss" is very well appreciated abroad, helping Kim Hyun Joong to be widely known in the Japanese market.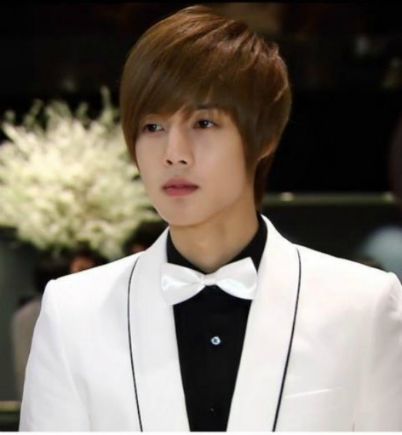 However, at the height of his career, Kim Hyun Joong was accused by his ex-girlfriend of assaulting his girlfriend and abandoning her while she was pregnant. The accusations in 2016 almost ruined the entire image of the male idol. Although proven innocent, Kim Hyun Joong's reputation could not be saved. Currently, Kim Hyun Joong is still working hard to regain his reputation.
He worked hard as a singer, in June 2022, Kim Hyun Joong announced his marriage to his girlfriend who does not work in the entertainment industry. By the end of 2022, he and his wife happily welcomed their first son.
4. Kim Bum
At the beginning of his career, Kim Bum had very good roles with movies like "High Kick", "Boys Over Flowers", etc. The actor's handsome appearance has helped him gain a large number of fangirls. Overcome with victory, Kim Bum invaded the music scene, releasing her first solo album in 2012, which achieved great success in Japan.
In 2013, he confirmed that he was dating actor Moon Geun Young and broke up in May 2014. However, Kim Bum seems to have not been able to overcome the shadow of So Yi Sung in "Boys Over Flowers". In the last 2 years, after a period of time without really outstanding works, Kim Bum made an impressive comeback with "Tale of the Nine Tailed" and "Law School".
5. Kim Joon
Kim Joon debuted as a singer cum in the band T-Max in 2007. The group also performed an OST for "Boys Over Flowers". After T-Max disbanded in 2011, Kim Joon continued to participate in movie projects such as "Detectives in Trouble", "Endless Love" and "City of the Sun". He enlisted in the army in 2011 and was discharged in 2013.
It is known that Kim Joon secretly married in 2015 with his longtime girlfriend whom he dated before debut. Kim Joon became a father when his wife gave birth to a healthy son.
6. Jang Ja Yeon
Out of the cast of Boys Over Flowers, Jang Ja Yeon is the one with the most tragic fate. At the age of 29, the beautiful actress played the role of a schoolgirl in the group of snobby rich children, often bullying Geum Jan Di and attracting attention with the F4 group.
Thought that after Boys Over Flowers, she would have the opportunity to develop her own name, but no, the actress committed suicide because of her involvement in a sex case that shocked Asian showbiz.
Specifically, Jang Ja Yeon left a will, revealing that she was forced to serve many giants and characters with "face blood". In early 2019, this case was re-investigated and received attention from Korean audiences, most of whom expected that those who indirectly pushed Jang Ja Yeon to death would soon come to light.
However, the case has passed 10 years, the evidence and backlog issues do not have a clear explanation, so in the end, the case has been closed forever and Jang Ja Yeon's death is still a mystery.