Breaking – Dispatch continues to release evidence Kim Jung Hyun's "Rude Attitude" to Seohyun is controlled by Seo Ye Ji .
This morning, Dispatch shocked with an article revealing many important evidence in the Kim Jung Hyun's "Rude Attitude" to Seohyun scandal.
In particular, this time the scandal also involves actress Seo Ye Ji.

The details of the incident were reported by Dispatch:
In a scene of "Time":
'Dispatch' received a report about Jong-hyun's lameness three years ago. We also secured some text chat between Kim Jung-hyun and Seo Ye-ji. Recently, the Kim Jong-hyun case has resurfaced. The authenticity was re-verified through several routes. It was confirmed to be true.
Seo Ye Ji: Mr. Kim Tak Tak. Remove all skinships.
Kim Jung-hyun: Sure.
Seo Ye Ji: Why don't you tell me how you did it today?
Kim Jung-hyun: I didn't even say hello to the female staff today. It's so hard to other people.
Kim Jung-hyun: I nailed the director Jang (Jun-ho) once again saying that romance is not possible.
Seo Ye Ji: Haha All right. Behave very well.
Kim Jung-hyun: The script for the 9th part was released, but I think it needs to be completely revised.
Seo Ye-ji: Do good corrections.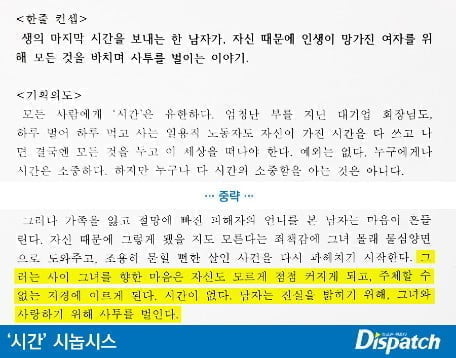 Seo Ye Ji ordered the deletion of the skinship, and Kim Jeong-hyun did it. As a result, the 9th Officetel drunk scene ended in the'just 'corridor. Seohyun (pathally) repeats only "Wake up".
Site officials met with'Dispatch 'burst into resentment.
"Writer Choi Ho-cheol broke his appendix in the middle of the broadcast and suffered from gastroenteritis. He worked in the studio with a blood bag on. Everyone risked their lives." (Site Personnel 2)
"The case of the production presentation is not possible. When Seohyun tried to immerse himself, he interfered (?). I had a hard time in my heart. I cried a lot." (Manufacturer's Personnel 2)
"The martial arts team was also angry. There was a scene where Seohyun was about to get hit by a car. Jeonghyun Kim said he was going to stop the car with his hand. It's not like'Iron Man '." (Site Personnel 3)
Again, actors have to act only in dramas. Kim Jung-hyun took a melodrama in reality. There were no promises of consideration for colleagues, courtesy to the staff, and viewers. I only tried to become a man of Seo Ye ji.