Seo Ye Ji and 'her husband' Kim Kang Woo show us fear with 'Recalled' photos.
"Recalled" is Seo Ye Ji and Kim Kang Woo's first horror movie, April 8 has begun to give us our first look at it.
The newly released photos certainly give us a glimpse into the tragedy the couple faces as the truth surfaces.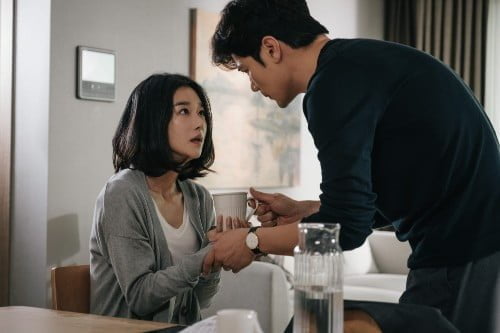 "Recalled" is a mysterious horror film about a woman named Soo Jin (played by Seo Ye Ji). The drama will revolve around the mystery of couple Soo Jin and Ji Hoon (played by Kim Kang Woo).
Soo Jin and Ji Hoon are a happy and loving couple, and after Soo Jin loses her memory, her devoted husband always lovingly takes care of her. However, as she realized Ji Hoon was the killer she saw in her vision of the future, Soo Jin began to increasingly suspect him.
Meanwhile, Ji Hoon cannot believe that Soo Jin has truly seen the future, and he comes to the conclusion that her unbelievable statements are a symptom of a psychological disorder.
The movie 'Recalled' is scheduled to premiere on April 21 .