3 reasons why Son Ye Jin can't have short hairstyles: Not her girlfriend Hyun Bin's beauty can "follow" every hairstyle!
Son Ye Jin only has short hair once.
As a beauty treasure in Korean cinema, Son Ye Jin's beauty has always made fans admire. The gentle face of a gentle radiance with a youthful radiance is what the public always loves in Son Ye Jin. Everyone thinks that face is always beautiful, but if you analyze it carefully, Son Ye Jin's face has some characteristics that she only fits with long, long hair. The only time the public saw Son Ye Jin cut her hair short, and since then has never seen her cut her hair short again.
1. Son Ye Jin owns a beautiful but narrow face.
This means that the cheeks close to the ears and temples are very narrow, this is an advantage that makes Son Ye Jin's angle always beautiful, but if this part is covered by hair, the whole face will be "hidden". Therefore, if she lets her hair fall, Son Ye Jin always tucks one side of her hair to reveal her angle.
A solution for her with a narrow face like Son Ye Jin, having her hair trimmed to reveal the angle with a few loose bangs is the perfect hairstyle at the moment to highlight her beauty advantages.
Hairstyles tied with loose bangs are always a bit soft, light and luxurious. Son Ye Jin also regularly wears these feminine hairstyles regardless of whether in movies or in real life.
And also because of the narrow facial angle, if the hair is short, it seems that the entire face will be obscured. Compared with long hair that shows an angle, with short hair, even when her hair is lifted to one side, her face is still hidden, making people unable to see her angle.

2. Son Ye Jin has a sharp jaw line and a pointed chin
Son Ye Jin's jaw line is quite sharp, with this feature being suitable for long hair, with short hair tied up or one side of her hair; The second is to have a super-short cut to reveal all of this beautiful jawbone, and bob hair is best not to.

This is the reason why Son Ye Jin should not have her hair bob, even when she tucks her hair to one side, the ends of her hair still touches her chin, making the jaw line hidden. In fact, not everyone is fortunate to have a beautiful standard jaw line like Son Ye Jin's.
3. Son Ye Jin has a short neck and smooth shoulders, slightly rounded
With a slightly short neck and narrow sloping shoulders, once again affirms that Son Ye Jin is not suitable for short hair, especially bob hair. Bob hair is usually for her long, slim neck and square shoulders
Son Ye Jin's shoulder frame is a bit round and smooth, not very suitable for short hair. When she tied her hair up, she revealed her neck, creating a feeling of tall and slim, but in fact, Son Ye Jin's neck was also a bit short.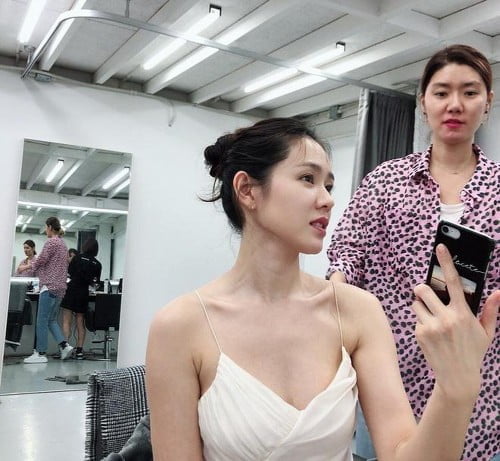 Compared to short-haired beauty Go Joon He, it is clear that Son Ye Jin's shoulder and neck are completely different from Go Joon He. If Go Joon He has wide shoulder blades and an elongated neck that is extremely suitable for short hair, Son Ye Jin is the complete opposite with rounded shoulders and a slightly short neck.
Thought that Son Ye Jin's beauty could be in every hairstyle, it turned out that wasn't the case. Anyone who possesses 3 traits like Son Ye Jin should think carefully before cutting her hair short!