Hyun Bin And Son Ye Jin on MBC live broadcast – going public? The Korean media's special interest in Hyun Bin- Son Ye Jin!
The couple Hyun Bin – Son Ye Jin continued to be discussed on television.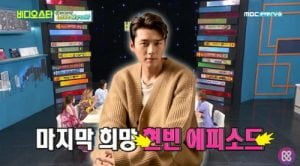 On the evening of September 22, MBC's Video Star Talk Show was officially broadcast, attracting the attention of the audience with the presence of actress Kim Jung Nan, who previously appeared in the movie Crash. Landing On You as the auntie of North Korea.
In the show, the actress cannot avoid questions related to the Hyun Bin duo – Son Ye Jin, who starred in the movie Landing where he was. Although there was no mention of their relationship, the audience still expressed interest in the show's editing.
Actress Park Na Rae specifically asked Kim Jung Nan, "There are rumors that Hyun Bin in the movie is very different from real life?", Kim Jung Nan said: "Before filming, I have not met. Hyun Bin is always quite quiet, I just dare to laugh when I see him, but I don't dare to say anything. I am also the one who opened the door to talk to him. "
Kim Jung Nan continued to add, "Actually Hyun Bin is very handsome, much more handsome in real life than in movies". Comedian Park Na Rae protested, "You don't have to say that, everyone in Korea knows that Hyun Bin is handsome."
When asked about Son Ye Jin, Kim Jung Nan said, "Son Ye Jin must be called surreal beauty. But why don't you ask about me and ask about Hyun Bin – What is Son Ye Jin? ", Making the whole studio laugh.
It can be seen that not only the fans but the Korean media are also very concerned about Hyun Bin – Son Ye Jin's relationship, although the two repeatedly deny and say they are only close friends, but the disclosure Many evidence of love still makes many people skeptical.